Dr. Shahan Chowdhury's journey into the world of medicine is nothing short of heartwarming. It all began with a deeply personal experience when her father suffered a sudden and unforeseen heart attack, despite having recently received a clean bill of health during a routine checkup. This life-altering event ignited a fire within her to become a doctor, driven by the heartfelt desire to prevent others from facing such undetected health challenges.
Astonished that this type of disease went undetected, Dr. Chowdhury became a physician to make sure that people are truly aware of their physical state of being. She's searched for the best diagnostics and treatments available, ensuring her patients are well-informed of their current medical state and able to achieve their best health.
In her pursuit of making a positive impact, Dr. Chowdhury founded Tailored Health – a haven where every individual is treasured and embraced with warmth. At its heart lies a dedicated focus on tackling the major cause of heart disease – inflammation, which underlies heart attacks, strokes, and hypertension. Tailored Health recognizes the unique risks faced by executives and extends its nurturing arms to provide the finest care, guiding them towards a healthier and more fulfilling life.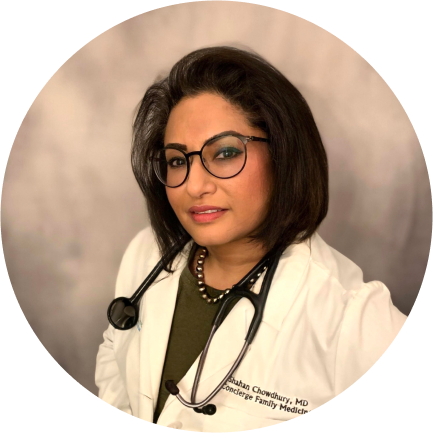 "When I first went to see Dr. C, I was feeling awful. I had low energy foggy thinking and just not top notch. With her care and looking at me as a whole person and not just a number. The journey to optimal health takes time Dr. C made my personal journey a success!!! Thank you Doc. and your team!!!"

"You will never find a more caring loving office. Their goal is to help you find total wellness by education and guidance. I love that I feel like family every time I come in! You will never find a better office to walk hand in hand on your journey. "

"Dr. Chowdhury and Sharlene are very thorough. Their objective is to treat the entire body and proactively find potential problems, treat and resolve them before they become big problems. Dr. Chowdhury and her office staff are directly available via phone call, e-mail and even text. It's very rare when you can pick up the phone and get your Dr on the line. We are very pleased with the level of care we receive from Dr. Chowdhury and highly recommend her services."

""Dr. C. is caring, knowledgeable, and thorough; she takes time to listen, explain, and answer questions. She is our family doctor and has always been available when we need her. I've been pleased with her office's level of service – her staff are excellent as well."
Work with us to become the Best You.