Heart disease started the career of Dr. Shahan Chowdhury M.D., who became a doctor after her father suffered a sudden and unforeseen heart attack. He'd just seen his doctor for a checkup and was deemed healthy, but soon found himself in the hospital with a life threatening cardiac event.
Astonished that this type of disease went undetected, Dr. Chowdhury became a physician and make sure that people are truly aware of their physical state of being. She's searched for the best diagnostics and treatments available, ensuring her patients are well-informed of their current medical state and able to achieve their best health.
You are priceless and Tailored Health skillfully addresses the major cause of heart disease—inflammation, which drives heart attacks, strokes, and hypertension. The executives we treat are often at far greater risks of these conditions than the general workforce, due to the demands of their position.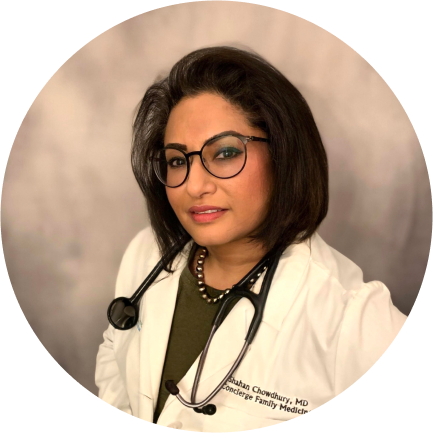 "When I first went to see Dr. C, I was feeling awful. I had low energy foggy thinking and just not top notch. With her care and looking at me as a whole person and not just a number. The journey to optimal health takes time Dr. C made my personal journey a success!!! Thank you Doc. and your team!!!"

"You will never find a more caring loving office. Their goal is to help you find total wellness by education and guidance. I love that I feel like family every time I come in! You will never find a better office to walk hand in hand on your journey. "

"Dr. Chowdhury and Sharlene are very thorough. Their objective is to treat the entire body and proactively find potential problems, treat and resolve them before they become big problems. Dr. Chowdhury and her office staff are directly available via phone call, e-mail and even text. It's very rare when you can pick up the phone and get your Dr on the line. We are very pleased with the level of care we receive from Dr. Chowdhury and highly recommend her services."

""Dr. C. is caring, knowledgeable, and thorough; she takes time to listen, explain, and answer questions. She is our family doctor and has always been available when we need her. I've been pleased with her office's level of service – her staff are excellent as well."
Work with us to become the Best You.